Hitman Blood Money PC Game
Hitman Blood Money: Once again step into the shoes of our favorite modern- world, dual silver-ballers wielding assassin, Agent 47. In this article, we discuss the game, the system requirements to run it and how you can download and install game easily. You may check this Total Overdose PC Game.
This Hitman Blood Money is the fourth installation in the Hitman video game series released on May 30th, 2006 in the United States of America. Hitman Blood Money PC is an action-stealth combo game played from a third-person perspective and developed by IO Interactive and published by Eidos Interactive for Windows, PS2, Xbox and Xbox 360.
Hitman Blood Money PC Game Overview
Game: Hitman Blood Money PC Game
Platform: Windows
Size: 264MB
Genre: Stealth
Rating: 4+
To those of you who are unfamiliar with the series, Hitman: Blood Money follows the life of Agent 47, an expert hitman, who returns after a short retirement to once again work for the International Contract Agency (also known as "the Agency" or "ICA").
The story progresses through as described in cutscenes by a previous Director of the FBI to a journalist interviewing him. The ex-director recalls how his office tracked 47 over a two-year time-span. Hitman: Blood Money also marks Agent 47's entry to the United States.
It would be fair to say Hitman: Blood Money was a huge commercial and critical success for Eidos Interactive having sold more than 2.1 million copies worldwide.
Hitman Blood Money Gameplay Video
Hitman Blood Money PC Requirements
This is a fairly old game and most computers nowadays would be able to run it on maximum settings without any problems. However here are the requirements to run the game.
Hitman Blood Money Minimum requirements
CPU: Pentium 4 1.5GHz/Athlon XP 1800+ or better
CPU SPEED: 1.5 GHz
OPERATING SYSTEM: Windows 2000/XP
RAM: 512 MB
VRAM: 128 MB
SOUND CARD: Yes
FREE DISK SPACE: 5 GB
VIDEO CARD: NVIDIA GeForce FX 5200 / ATI Radeon 9500 or better
Direct X: DX9
Hitman Blood Money Recommended requirements
CPU: Pentium 4 2.8GHz or Athlon XP 2800 or better
CPU SPEED: 2.4 GHz
OPERATING SYSTEM: Windows 2000/XP
RAM: 1 GB
VRAM: 128 MB
SOUND CARD: Yes
FREE DISK SPACE: 5 GB
VIDEO CARD: NVIDIA GeForce 6800 / ATI Radeon X800 GTO or better
Direct X: DX9
New Features Of Hitman Blood Money PC Game
The developers took a giant step forward with the gameplay of Hitman: Blood Money by adding a ton of new features and improving existing features from Hitman: Contracts. Some of them are listed below.
Agent 47 can now take down enemies by disarming them when he is unarmed.
47 can now take an NPC as a human shield when cornered and also toss them after knocking them out.
Agent 47 can now hide knocked out or dead bodies in various containers or throw them off ledges or balconies. The containers and cabinets serve as a good spot for 47 to hide as well
You can upgrade certain weapons now and add customizable parts.
A wide range of improvised melee weapons is added like hammers, screwdrivers, stilettos, baseball bats and knives.
Accident system is added, which provides the player with methods to make the assassination of your target look like accidents, for example, you can mess with a target's grill to make it detonate when it is turned on or loosening the screws of a chandelier so that it falls on a target.
Additionally, the notoriety feature is added which gets triggered if the player is caught on surveillance or by witnesses doing anything suspicious or murdering someone. As notoriety rises, rewards go down and completing objectives becomes difficult. The player can steal CCTV tapes, bribe or eliminate witnesses to lower the notoriety.
Weapons and coins can now be thrown as a distraction and is a very useful feature in this game.
Also, the AI has been totally improved. They can't see through disguises instantly nor do they open fire at 47 in a restricted area. They are alerted when they see blood and discover a poorly hidden body by following the blood trail.
Download Hitman Blood Money Free Download For PC Highly Compressed
These were some of the most intriguing features of the game. Now if you want to play the game for yourself, here's where you can download it easily.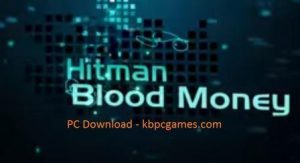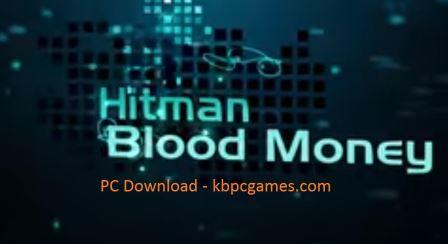 Also, check and download Counter Strike Condition Zero Game.
GamWrapping Words
With this blog post you can get system requirements, features, and link for free download Hitman Blood Money PC Game full version. So write your thought about this game in a comment section. And if you like it more then share it out on Tumblr, Facebook, Twitter, Instagram etc. And check kbpcgames always to get more pc games free. Thank You.